Wedding
Your wedding day is one of the happiest days of your life. Ladurée has been creating delicious treats for more than 150 years, and has developed a range of products to accompany your big day. Just imagine an incredible gift table, decked out with a majestic wedding cake designed to fulfil your every last wish.
WEDDING CAKES, DESSERTS, AND WEDDING GUEST GIFT
Ladurée treats are the perfect accompaniment to the most magical day of your life. We have an impressive selection of wedding cakes and desserts, from the delicious and delicate, to the majestic and unmissable, all available in a range of different colours and sizes.

Cocktails
In our salon or at the place you want, Ladurée knows how to be by your side during important moment of your company: professional meetings, team breakfast, product launch, press presentations, ...

Ladurée develops its distinctive style to highlight your events: Savoury and sweet cocktail pieces, macarons, finger sandwiches, beverages and viennese pastry.

SWEET PETIT FOURS
Enjoy Ladurée's sweet treats at your event: shortbread, tarts, choux pastries…
SAVOURY FINGER FOOD
Ladurée's savoury flavours are perfect for your business receptions: puff pastry, finger sandwiches, mini quiches, pies, and more…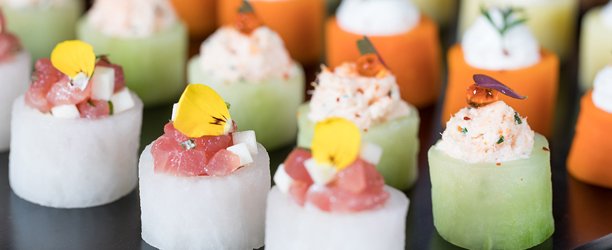 Moments
Baptisms, communions, or even birthdays - Ladurée is there to see you through all the most important moments of your life. We have an impressive range of cakes and desserts available in a range of delicate hues. You can also give your guests a special memento with our selection of Ladurée guest favours.

OUR CELEBRATION SELECTION
Whether you're celebrating a birthday, a baptism, a Bar Mitzva, or just want to say thanks, give your nearest and dearets a moment of pure joy. 
You can choose from a selection of Ladurée treats - macarons, petit fours, chocolates, jams, champagne, and other items from our delicatessen range. Or, if your celebration deserves a made-to-measure creation, have a look at our centrepieces made from various desserts, macarons, choux buns, or croquembouches. 
You can also give your guests a special memento with our selection of Ladurée guest favours: tasteful gifts presented in beautiful boxes.